HOW TO GET MORE LOCAL LISTINGS THROUGH RELATIONSHIPS AND REFERRALS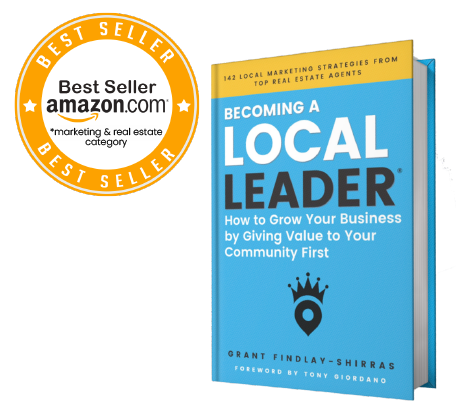 Fill out the fields below and we will send you a FREE copy of the best selling book, BECOMING A LOCAL LEADER®
What Readers Have to Say...
"Becoming a Local Leader® is a phenomenal book. This book and these concepts have been the single biggest success driver to my real estate career over many years. Every agent wants MORE referral business, but very few do the work to earn it. Coming from a place of delivering tremendous value and being the go-to person in your town and community for all things happening is the position to be in. Give first, then keep giving…business will find you. You need to truly understand that you are NOT in the real estate business, you are in the business of PEOPLE. People live in the homes you want to sell and they know hundreds of others they could refer to you, if and only if, you have value and they trust you. Whether you want to increase sales, create a referral system or improve your business relationships, this book will get you there".
~Jeff Lobb, Founder and CEO-SparkTank Media and Coach52
"These authors get it! A hyper-local relationship book that focuses on the core attributes of contributing to people's lives and how that relationship strategy returns incredible results for agents and brokerages. This is a must read for all leaders."
~James Colburn, Author of ReSucceed Creator of the Epic Evening Ritual Host of Real Estate Uncensored Podcast Chief Growth Officer of Windermere Homes & Estates.
Becoming a Local LeaderⓇ is a collaboration of stories from successful real estate agents on how to get more listings through relationships and referrals in a specific geographic area. The main message is that you need to "become a local leader" and give value to the people who live and work in your geo farm, FIRST, and then they will become a client and refer business to you...one just needs to have faith in the Law of Reciprocity.
Not only does the book give strategies for agents to get more local listings, but it also shows the enjoyment and fulfillment that agents have by being 'the hub' of their communities.

Our mission through this book is that agents spend less time and money on advertising and more time and money on building relationships and getting more listings and being of service to their community, because it pays (more), and more importantly, it's a ton of fun and the right thing to do!
Copyright © 2022 Parkbench.com. All Rights Reserved
We don't know you, your personality, your work ethic or your market and we cannot say you will have the exact same results as any claims made. Claims made are past results and should not be used for any future earnings or outcomes. We are here to help and add value to your business, the results are subject to your effort and market. If you have questions, email support@parkbench.com. Thanks for taking interest. Happy prospecting :)